Latest News
Featured Articles
Trade Events
Sulfosal
Presenting sulfosal, which is totally biological and non toxic in nature that has a broadband spectrum and immediate knock down effect. We are a leading manufacturer and exporter of Sulfosal round the globe. We also supply in bulk as per the requirement of the clients.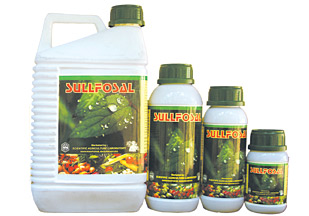 Features
Composition
Potassium Polysulphide & Stabilizers
pH
Neutral (7.00)
Physical Color
Yellowish Orange
Compatibility
Compatible with other pesticides
Merits & Uses
As it is a sulfur derivative, it can easily be used on behalf of sulfur. If used properly, it is capable in bringing good results to the food crops. It is widely used for mite control & powdery mildews.
Target Crops
Paddy, Wheat, Corn, Soya beans, Tubers, Cotton, Peanuts, Sesame, Sugarcane, Tobacco, Mulberry, Tea, Fruits & other crops.
Recommended Dosage & Packaging
As far as dosage is concerned, one needs to apply it as 3 ml with per litre of water. Packages available in different weight as 250 ml, 500 ml, 1000 ml, 5000 ml or 200 kg sealed barrel.