Kemisal - Organic Insecticide
Kemisal, a organic derived insecticide & also vicide with large application, is a sophisticated product manufactured at our unit. It is suggested to use kemisal to ascertain variety of sucking pests and biting worms in an effective manner. It is 100% eco-friendly and non toxic as well in nature. It is also a contact insecticide.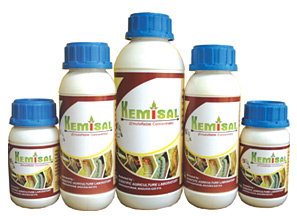 Features
Composition
Triterpenes, Diterpenoid, Lactones, Diterpene Dimers, Solvents & Emulsifiers
pH
Neutral (7.00)
Physical Color
Light Reddish Orange
Compatibility
Compatible with other pesticides
Merits & Uses
It is one of the favorite products from our end among other biological products. It is famous for its knife like effect. It is widely used for controlling pests like Aphids, Jassids, Hoppers, Thrips, Beetles, Bugs, Flies, Boll Worms, Leaf Rollers, Leaf Eating Hairy Caterpillars, Semi-Loopers, Stem Borers, Fruit & Pod Borers, etc.
Target Crops
Paddy, Wheat, Corn, Soya beans, Tubers, Cotton, Peanuts, Sesame, Sugarcane, Tobacco, Mulberry, Tea, Fruits & Other Crops
Recommended Dosage & Packaging
While using this insecticide, one needs to use 3 ml with per liter of water. We offer this insecticide in various packages. It includes: 250 ml, 500 ml, 1000 ml, 5000 ml or 200 kg sealed barrel.