Latest News
Featured Articles
Trade Events
Aminossal G
Aminossal G also assists plant to grow. It boosts plants and makes it more green by enhancing chlorophyll level. It is totally biological product widely used in agriculture sector. Even foreign clients are demanding our Aminossal G. If one requires our products in bulk, feel free to contact us and we are always there to cater to the needs of our clients.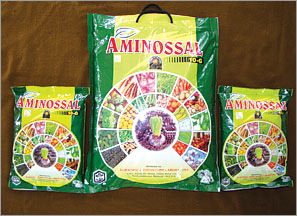 Features
Composition
Aminossal 10%, Fillers & Binding Agents
pH
Neutral (7.00)
Action
Plant growth regulator, growth promoter & yield booster
Compatibility
Compatible with other pesticides
Merits & Uses
It is 100% biological product, capable in bringing forth immediate fruitful results
It works as promoter for flowering
It also prevents premature falling of flowers and fruits as well
Increasing chlorophyll is another feature of Aminossal G
It is totally eco-friendly and there is no toxin
Target Crops
Paddy, Wheat, Corn, Soya beans, Tubers, Cotton, Peanuts, Sesame, Sugarcane, Tobacco, Mulberry, Tea, Fruits & other crops.
Recommended Dosage & Packaging
You are advised to use it as 8 kg with per acre or 20 kg with per hectare. Available in attractive packages like 1 kg, 4 kg or 40 kg drum packing.