Latest News
Featured Articles
Trade Events
Salfix-100
Our company is engaged in manufacturing and exporting salfix - 100 to our clients. The chemical property of Salfix - 100 is anionic. It is wetting, spreading & dispersing agent. Many of our clients have been benefited by using our product for the betterment of their crops.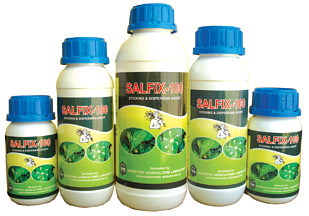 Features
Composition
Anionic Surfactants
pH
Neutral (7.00)
Physical Color
Light Yellow
Compatibility
Compatible with other pesticides
Merits & Uses
Its true to say that Salfix - 100 is 100% anionic wetting & dispersing agent. Actually, it spreads the pesticides on the surface of the leaves when the spraying is finished. Being sticky, it fixes the insects enabling pesticides to kill them instantly. It also increases the efficacy of the pesticides by 20%.
Target Crops
Paddy, Wheat, Corn, Soya beans, Tubers, Cotton, Peanuts, Sesame, Sugarcane, Tobacco, Mulberry, Tea, Fruits & other crops.
Recommended Dosage & Packaging
So far the dosage is concerned, it is recommended to apply 4 ml with per litre of water. Salfix - 100 is available in 250 ml, 500 ml, 1000 ml, 5000 ml or 200 kg sealed barrel.