Latest News
Featured Articles
Trade Events
Salorra - Organic Insecticide
Salorra is actually a organic derived contact insecticide with large scope in agriculture. Generally, it is most suitable to use in case of controlling sucking pests and biting worms very effectively. The speciality of Salorra is its 100% eco-friendliness. It is also non toxic. The action of Salorra is compatible to all insecticides.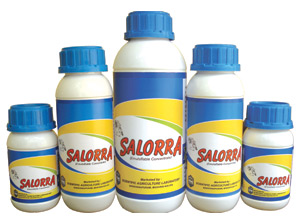 Features
Composition
Triterpenes, Acetogenin, Monoterpenes, Solvents & Emulsifiers
pH
Neutral (7.00)
Physical Color
Light Brown
Compatibility
Compatible with other pesticides
Merits & Uses
Salorra is totally biological with no side effects.
It has excellent powerful effect and extensively used for safety of agricultural products.
This insecticide is most suitable for curbing various pests like Boll Worms, Leaf Rollers, Hairy Caterpillars, Semi-Loopers, Stem Borers, Fruit & Pod Borers, Aphids, Jassids, Thrips, White Fly,Bugs, Beetles, etc.
Target Crops
Paddy, Wheat, Corn, Soya beans. Tubers, Cotton, Peanuts, Sesame, Sugarcane, Tobacco, Mulberry, Tea, Fruits & Other Crops
Recommended Dosage & Packaging
Generally this insecticide is used as 3 ml with per litre of water. One can avail these insecticides in various attaractive packs e.g. 250 ml, 500 ml, 1000 ml, 5000 ml or 200 kg sealed barrel.