Salotrap - Organic Insecticide
If you want Salotrap for your agricultural use, we are here to assist you. Our salotrap is totally biological with immediate effect. It is non toxic and userfriendly. We manufacture as well as export our products globally. It is contact, stomach & systemic insecticide.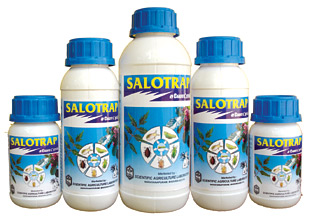 Features
Composition
Triperpenes, Monoterpenes, Karangin, Solvents & Emul sifiers
pH
Neutral (7.00)
Physical Color
Dark Tan
Compatibility
Compatible with other pesticides
Merits & Uses
It is highly effective in pest control, works instantly and brings forth optimum result. It is efficient in controlling many pests like Aphids, Jassids, Hoppers, Thrips, Beetles, Bugs, Flies, Boll Worms, Leaf Rollers, Leaf Eating Hairy Caterpillars, Semi - Loopers, Stem Borers, Fruit & Pod Borers, etc.
Target Crops
Paddy, Wheat, Corn, Soya beans, Tubers, Cotton, Peanuts, Sesame, Sugarcane, Tobacco, Mulberry, Tea, Fruits & other crops.
Recommended Dosage & Packaging
We recommend it to use as 4ml with per liter of water. Available in attractive packages with 250 ml, 500 ml, 1000 ml, 5000 ml & 200 kg sealed barrel.