Safin 6G - Organic Fungicide & Nematicide
We are also engaged in manufacturing and exporting of Fungicide - Safin 6G, which is totally organic and widely used. The uniqueness of this fungicide lies in its compatibility with other pesticides. You will find our Safin 6G fungicide excellent in quality.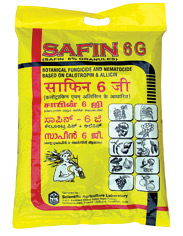 Features
Composition
Safin 6%, Filler & Binding Agents
pH
Neutral (7.00)
Physical Color
It is both contact & systemic fungicide & bactericide
Compatibility
Compatible with other pesticides
Merits & Uses
It is 100% biological fungicide, easy to use, brings optimum result.
Safin 6G is widely used to cure many diseases namely Powdery Mildew, Downy Mildew, Rot, Anthracnose, Wilt, Leaf Spot, Cankers, Early & Late Blight, Tikka Disease, etc.
Target Crops
Paddy, Wheat, Corn, Soya beans, Tubers, Cotton, Peanuts, Sesame, Sugarcane, Tobacco, Mulberry, Tea, Fruits & other crops.
Recommended Dosage & Packaging
It is best to use as 4 kg with per acre or 10 kg per hectare. Available in the packs of 1 kg, 4 kg, or 40 kg drum packing.