Latest News
Featured Articles
Trade Events
Salute - Organic Growth Promotant
Salute helps in the growth of the plants. We manufacture as well as export salute to the far off countries. It is able to bring forth quality result. It helps in preventing premature falling of fruits, nuts or pods. It also boosts the size of the fruits, vegetables, pods or nuts. It is plant growth regulator (PGR), growth promoter and anti-transpirant. It is eco-friendly & non toxic.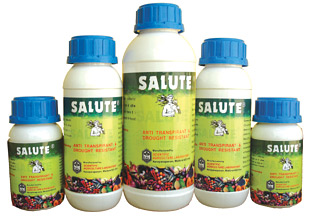 Features
Composition
Biologically derived hydrolyzed plant proteins, solvents, stabilizers & emulsifiers
pH
Neutral (7.00)
Physical Color
Yellowish Orange
Compatibility
Compatible with other pesticides
Merits & Uses
This is completely biological in nature. Able to bring quick and optimum result. It not only step-ups the chlorophyll content but also provides lush appearance to the plant. Protects premature falling of flowers. It quickens the growth of the root by enhancing its absorption level. It spreads the pesticides in the leaf surface and helps in penetrating into the leaf surface quickly. Being sticky, it prevents washing off during rainy season . It Increases the efficacy of pesticides by 25%
Target Crops
Paddy, Wheat, Corn, Soya beans, Tubers, Cotton, Peanuts, Sesame, Sugarcane, Tobacco, Mulberry, Tea, Fruits & other crops.
Recommended Dosage & Packaging
It is advised to use as 3 ml with per litre of water. This product is available in attractive packages in 250 ml, 500 ml, 1000 ml, 5000 ml or 200 kg sealed barrel.